I love Grammarly; it's a time saver in my business and saves my neck by checking my Grammar before publishing for my clients. I absolutely cannot have spelling or grammar errors when writing captions or blog posts for clients! Using Grammarly, you can catch mistakes in your writing before you hit send or submit. This can save you from embarrassing typos and grammar errors and ensure your writing is clear and professional. Give it a try and see the difference it can make!
You can use my affiliate link below to try Grammarly for free, and if you love it, upgrade to a premium version that will make your life much easier. The Premium means you can also take advantage of the built-in AI which is so helpful if you have a slight mental block. It also gives more ideas and suggestions around tone, delivery, and how engaging your work is, which the free version does not provide. I also find the Plagiarism tool in Premium super helpful as I copy and paste content and research daily, so I need to either credit my sources or use my research as a guide and make it my own words, so the Plagiarism check is really handy to have.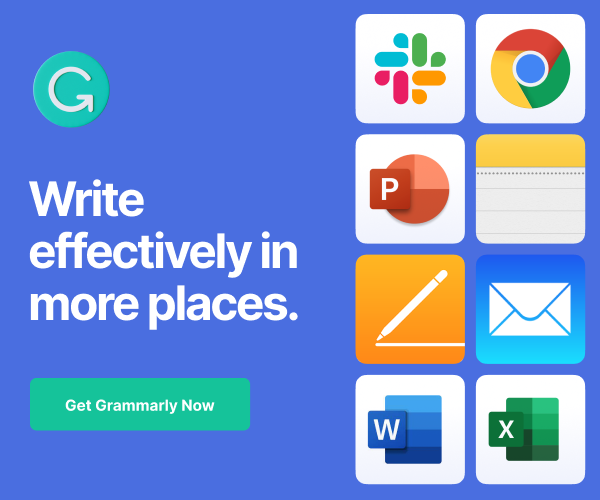 This is an affiliate link ☝️
Once you add the extension to your browser Grammarly is activated on the apps and programs you use as above, you can pretty much never make a spelling mistake! Use it on Gmail, Facebook, Twitter, LinkedIn, and thousands of other websites.

The actual Grammarly platform is also really handy to have; I use it like a notebook, and drop in all sorts of information I want to write blog posts about, before I forget where I've found them or if I have a bright idea I want to research more.
There are many great careers where Grammarly could be an incredibly helpful tool! Some examples include writing, editing, journalism, advertising, public relations, content creation for social media, and even legal work. Whether you're crafting an important document, proofreading an article, or simply sending an email, Grammarly can help ensure that your writing is clear, concise, and error-free. It's a valuable tool for anyone who wants to communicate effectively and professionally, and it's especially useful for those in fields where strong writing skills are essential.
Once you have Grammarly you will find yourself using it for all sorts! Writing Birthday Cards, editing your Resume, maybe a Vision Statement. You could use it to create an Executive Summary for a big piece of information, all sorts!
You kind of use it like your collaboration partner, It provides communication assistance in line with your unique voice or style once you load in your preferences - you actually set how you want your writing to sound and use those same settings everywhere you write.
Grammarly provides you with high quality drafts, outlines, replies, and revisions when you need them, so you save time for what's important.
I hope you find Grammarly useful in your business and actually everyday life, as much as I do. - Let me know how you go!
And keep writing, creating 😘

This is an affiliate link ☝️