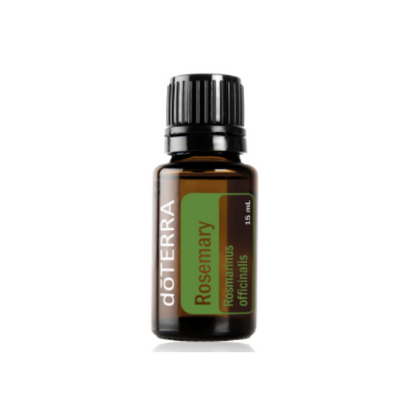 15ml Rosemary Essential Oil
doTerra
$29.00
Rosmarinus officinalis
Rosemary is an aromatic, evergreen shrub whose leaves are frequently used to flavour foods such as stuffings, pork, roast lamb, chicken, and turkey. Along with its culinary applications, Rosemary essential oils herbaceous and uplifting scent is frequently used in aromatherapy.
Rosemary has many benefits. Long revered by experts, Rosemary was considered sacred by the ancient Greek, Roman, Egyptian, and Hebrew cultures. Rosemary's herbaceous and uplifting scent is frequently used in aromatherapy.


Uses:
Diffuse while studying to create an uplifting atmosphere. Blends well with Lemon, Cypress, Geranium, Basil and Eucalyptus essential oils.
Add 1-2 drops of Rosemary essential oil to flavour roast meats and/or vegetables.
*Disclaimer - I am a dōTERRA Wellness Advocate, sharing my knowledge and research from using these oils myself and through my dōTERRA training. The products described are not intended to diagnose, treat, cure, or prevent any disease. They are to enhance your wellbeing. Keep out of reach of children. If pregnant or under a doctors care, consult your physician. Avoid contact with eyes, inner ears and sensitive areas. I also receive Bonuses from dōTERRA when you purchase these products. This product is priced at RETAIL PRICE, if you would prefer to sign up as a wholesale doTerra customer and enjoy 25% discounts on all purchases and become part of the dōTERRA family plus added bonuses, please do get in touch with me directly! Or head straight to my Wholesale Oils section.

SKU: 10000-10